16

Nov, 2022
Are electric cars expensive to insure?
Luckily, while the type of car is important, your personal details and driving history also play a huge part in how much your premium will be. With the costs of buying and running an electric car getting lower all the time, this could make them more affordable than many of us realise. So, if we've done our homework before buying – and thought about a few simple ways to reduce our premium – that new quote shouldn't contain any nasty surprises.
Electric cars are becoming the new normal
The electric vehicle market is booming, and with it the infrastructure, repair services and specialists needed to support it. As it grows further, it's possible that repair and maintenance costs will fall, and insurance premiums will become more in line with petrol and diesel cars.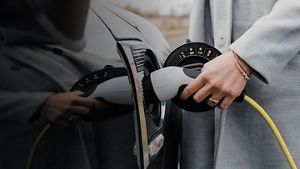 Electric Car Insurance
Plug into a brighter future with our car insurance for your electric and hybrid vehicles.
Explore Electric Car Insurance
Right now, electric car owners can expect to offset some of their running costs through their low-maintenance, engine-free design and through significant savings made by charging instead of refuelling.  
We asked our underwriters what factors could help you bring down the cost of insuring an electric vehicle.  They told us, as with petrol or diesel vehicles, reduced mileage and those precious no claims bonuses can really help lower what you pay for cover. Vehicles that have crash prevention and security systems can also save you money on your premiums – meaning a safer, more secure car could be good for you, your wallet, and the planet. 
Where you keep your car could also make a difference to your quote. If you have a garage or driveway, your car is likely to be safer overnight – potentially lowering your premium.  
Experience counts
New and young drivers already face higher cover costs in general. But if you're worried that adding an electric vehicle premium could push them into unaffordable, you'll be glad to hear there some simple things you can do to keep costs down. 
In some circumstances, a telematics device – or little black box – can be fitted, letting insurers get a real picture of how you drive, allowing them to potentially reward safe and skilful driving with lower premiums. Electric cars are also likely to be filled with the latest cutting-edge safety tech, which can help reduce the risk of an accident, helping you pay less. 
Taking a further driving course, such as Pass Plus, can also help lower your premium.
Be sure about your insurer
While it might surprise you how affordable the insurance for an electric car could be, remember that making sure you have the coverage you need, from an insurer you trust, should still be the most important factor when choosing your policy.
Get a quick quote and see for yourself what it'd cost you to insure your electric car with us.
Related Posts