29

Mar, 2023
Austin Accident Lawyer Expands Pflugerville, Round Rock TX Wrongful Death Claims, Business News
Andrew Traub, Austin Accident Lawyer, announced that he's guiding his firm to handle more wrongful death cases in and around the larger Austin Area, including Pflugerville & Round Rock Texas.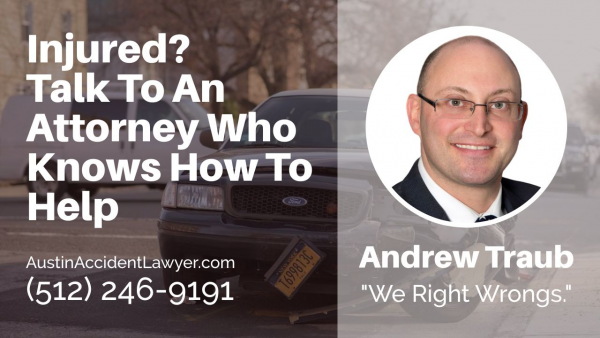 Austin, United States – March 8, 2023 —
The Austin Accident Lawyer, Andrew Traub of the Traub Law Firm, provides compassionate and experienced legal representation for those who have lost a loved one due to the negligent or wrongful actions of another, and has recently announced the firm is expanding a media campaign to promote their work with clients in all the surrounding Austin locations, including Round Rock, Pflugerville, Cedar Park, and Leander, to help Texans who have lost a loved one in a wrongful death case with holding the responsible party to account after a fatal accident, and helping them to cover things like lost wages, medical expenses, funeral costs, as well as the persistent financial burden of losing a loved one due to the negligent actions of another party.
For more information, visit the Traub Law Firm's website at https://austinaccidentlawyer.com/practice-areas/austin-wrongful-death-lawyer-attorney/ or contact the firm directly to schedule a consultation.
Traub noted that his firm was expanding their focus on wrongful deaths, as they have become more prevalent in the last few years in Texas for a variety of reasons. Industry Statistics suggest wrongful death lawsuits have increased in their legal frequency in Austin and the surrounding areas, which include the regions of Round Rock, Pflugerville, and Cedar Park. "Wrongful deaths can happen in a number of ways, including medical malpractice, which has been estimated as potentially the 3rd leading cause of death in the United States at large," Said J. Michael West, a spokesperson for the firm, "as well as motor vehicle accidents involving car crashes, commercial vehicle accidents, and more." West noted that according to data from the Texas Department of Transportation, "there was over 15% increase in traffic accidents year over year from 2020 to 2021, and 2021 into 2022, and that 2023 showed no signs of slowing down. "Over 17% of those deaths were due to distracted driving," He went on to say, noting that one involved rideshare companies, like Lyft and Uber, too, which the Traub Agency has also expanded their focus on dealing with. "Deaths, and by extention wrongful deaths, are definitely up in Texas," concluded West.
Wrongful death lawsuits in Texas have increased in recent years, with more and more families seeking compensation for the loss of a loved one due to the negligent or wrongful actions of the at fault party.
"Pecuniary, or financial, injury is the main measure of damages in a wrongful death action," explained Andrew Traub, a personal injury lawyer who was born in South Africa before eventually settling in Austin, TX. He noted that courts have interpreted this as including, "the loss of support, services, lost prospect of inheritance, and medical and funeral expenses. Most laws provide that the damages awarded for wrongful death shall be fair and just compensation for the pecuniary injuries that resulted from the decedent's death. If the distributees paid or are responsible for the decedent's funeral or medical care, they may also recover those expenses. Finally, a damage award will include interest from the date of the decedent's death." But, noted spokesperson West, "if they don't file, there is no chance at seeing any kind of settlement or award – and often times they'll simply agree to the insurance companies initial offer, which is always designed to favor the insurance company over the injured individual."
"Many people simply fail to file wrongful death suits because they think their damages were too small, or that no court would hear them out," said Traub's spokesperson, West, "Damages can include medical bills, funeral expenses, and loss of income, loss of inheritance, and even punitive damages and more, and the Traub firm is doubling their efforts to help people in Round Rock and Pflugerville to file wrongful death claims." West continued, "the problem is, personal injury claims for these accidents do have a statute of limitations. Injured parties have two years from the date of the accident to file a wrongful death claim, after which time, claims will almost certainly be denied. That's not fair and unjust, so the firm is dedicated to making sure the those harmed get justice." To help prevent Austin residents from falling victim to missing the statute of limitations, The Traub Law Office is pushing a media campaign to focus on awareness of this fact.
Personal Injury Attorneys such as Traub work to seek maximum monetary compensation, which can involve working with insurance companies, particularly when unexpected death involves a workplace accident or construction accident, as well as pedestrian accidents and motorcycle accidents, to hold the negligent party responsible.
With years of experience handling wrongful death cases, the Traub Law Firm is dedicated to helping families recover the compensation they need to cover the costs associated with their loved one's death. The firm works closely with clients to build a strong case, including gathering evidence and working with medical professionals and experts.
"The Traub Law Firm understands the unique challenges that arise with wrongful death cases and is committed to helping surviving family members and loved ones seek justice," concluded West. The firm offers a free consultation to families in the Austin, Texas area and now the surrounding cities who are considering filing a wrongful death lawsuit. It is important to speak with an experienced wrongful death attorney to understand legal rights and options. The Traub Law Firm can be contacted via their website.
Contact Info:
Name: Andrew Traub
Email: Send Email
Organization: Austin Accident Lawyer
Address: 8701 Shoal Creek Blvd #401, Austin, Texas 78757, United States
Phone: +1-512-246-9191
Website: https://austinaccidentlawyer.com/
Release ID: 89091120
If you detect any issues, problems, or errors in this press release content, kindly contact [email protected] to notify us. We will respond and rectify the situation in the next 8 hours.
Related Posts