26

May, 2023
Fadata ushers in a new age of digital insurance business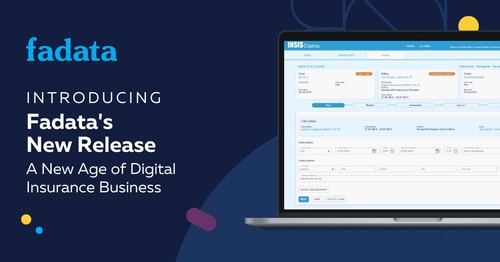 We have built revolutionary technology that enables insurers to react to the changing requirements of modern customers in real-time
New release from Fadata ushers in a new age of digital insurance business with a completely open environment and faster updateability
With the new release of its core insurance software platform, INSIS, Fadata is completely changing the way a core platform serves insurance companies. Fadata gives clients the power to choose between two different database providers, choose cloud provider, and a number of preferred partners for the ultimate flexibility. The new containerised core platform enables insurance companies to have a running environment in mere minutes and makes updates fast for constant access to new business features and functionalities.
Fadata, a leading global provider of software solutions for the insurance industry launches a ground-breaking new version of its comprehensive end-to-end insurance platform, INSIS. Riding high on the back of the success of previous INSIS versions, Fadata's latest INSIS release delivers a completely new low-code process platform.
INSIS is a constantly evolving, single, highly flexible platform that is deployable and can be localised across geographies. It enables products to be released rapidly, processes to be made with speed and efficiency, and delivers reliable, solid operational control and compliance.
Open for business – Complete freedom of choice
Rather than constraining choice, with Fadata and the INSIS platform insurance businesses have the freedom to explore the various vendor options available to them, which has the potential to deliver cost savings and more tailored, efficient operations. Fadata has containerized the individual modules of INSIS creating a fully open environment. Fadata has also added support for an alternative to Oracle DB and expanded options to reach for the Cloud, delivering insurers the power to choose preferred providers according to business requirements.
A complete shift in technology – Introducing containerization with significant benefits
INSIS now runs in containers, providing the following benefits:
• A true plug-and-play solution: Reduce the time to have a running environment ready from days to minutes. Combine modules automatically, and test individually.
• Update individual modules: On premise or in the Cloud, enjoy speedy, continuous updates and the ability to choose when and how they happen. The new containerised modules usher in a new era of resource efficient updates which won't interfere with crucial business activities.
• Add new business features: Significantly reduce time-to-market. Seamlessly introduce complementary features to stay current, react to changing market demands, and innovate into the future.
• Stability: One module does not affect another. Code can be developed and tested in separate environments without disrupting other uses or processes, ensuring no downtime when changes and updates are made.
• Scalability: Increase individual module performance for optimal efficiency to support any influx. For example, increase customer satisfaction by tackling large scale claims requests in natural disasters, or prepare optimal system performance following media campaigns.
Simple Integrations – The future of insurance enterprise with Fadata Ecosystem
Insurers will be able to tap into the new Fadata Ecosystem of value-added applications. The pre-approved partner solution is designed to support the need to meet changing customer needs and expectations with fast paced innovation, enabling insurance companies to scale flexibly with less cost and less effort. As Ecosystem develops, Fadata clients will benefit from a pre-made enterprise solution that offers peace of mind with pre-selected trusted partners so that they can seamlessly deploy new technology capabilities from different technology leaders without having to source solutions.
Rasmus Lynge, Chief Product & Technology Officer, Fadata, comments: "Our new release of INSIS is a true game changer for our clients. We have built revolutionary technology that enables insurers to react to the changing requirements of modern customers in real-time to always remain current and indeed to grow efficiently. More than that, we are also providing insurers with the ability to innovate freely so that trend setters can look for ways to evolve in the industry. With the new release, we open the gates to a new infrastructure, and it is a key milestone towards the INSIS platform being cloud-ready, offering our clients security, scalability and upgradability on a different level."
With INSIS, Fadata supports insurance companies with digital transformation, effortless day-to-day business and achieving long-term goals – across all lines of business. To find out more visit: https://www.fadata.eu/fadata-new-age-for-your-business
-ENDS-
About Fadata
Fadata is a leading provider of software solutions for insurance companies globally. We are on a mission to empower the insurance industry to drive customer engagement, innovation and business value. Together with our customers we are on a journey to build the future of insurance and impact millions of people's lives every day.
Fadata has clients in over 30 countries across the globe. Headquartered in Munich, with international offices in more than 5 European cities, Fadata is backed by Private Equity Riverside and Lowell Minnick.   

   

For more information, please visit www.fadata.eu   
Media contact:
Kerri Chard

The PR Room

Email: [email protected]

Tel: +44 (0) 333 9398 296
Related Posts