14

Apr, 2023
Hey budtender, take me to the Ganja Giggle Garden! A pot-crawl round LA's boutique cannabis stores | Design
'Do you know what terpenes are?" says our glamorous host, pointing to four glass domes spotlit on a table, each containing mysterious lumps of black rock. The surrounding walls of this small room in Los Angeles are lined with mirrors, topped with neon arches that glow lilac, pink and purple, their reflections forming a trippy maze of arcades extending into infinity. It looks like some kind of cosmic chapel, an intergalactic shrine to precious meteorites, but this is Wyllow, one of the city's new breed of boutique cannabis dispensaries, determined to elevate the humble herb to dizzying new heights.
Our hostess lifts one of the domes with a flourish and offers me a whiff. A rich, citrusy bouquet with piney undertones wafts forth, recalling lemon peel and woodland walks. Another dome's scent is more smoky, a third musky and earthy with sweet notes of clove. It feels like I'm at a fancy wine-tasting, not a place to score weed.
"Terpenes are the volatile hydrocarbons that give plants their aroma," she explains, sounding like the science bit of a shampoo commercial. "And they give different strains of cannabis their unique highs." These rocks in front of us are not chunks of aged, vintage hash, as I had naively assumed, but lava stones scented with particular terpenes. Sniffing them is just the introduction to this curated cannabis shopping experience, the first step on my journey into the US's mind-bending $30bn (£24.5bn) marijuana retail industry.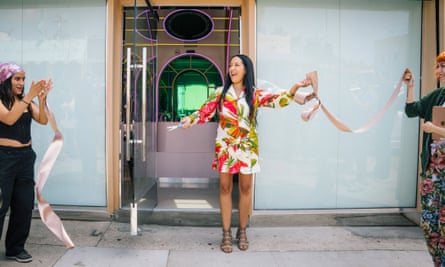 As America's hippie capital of peace, love and good vibes, California has long had a relaxed relationship to pot. It was the first state to legalise cannabis for medicinal use in 1996, and passed a law allowing recreational use in 2016 (following several other states), unleashing a new generation of stores and "consumption lounges". Before then, buying weed for medical use was not exactly a welcoming experience. Official dispensaries looked like illicit dens, with heavy security and entry through a double-door airlock. A face behind grated glass would check your ID and prescription, which was weighed out from big jars behind a shabby counter.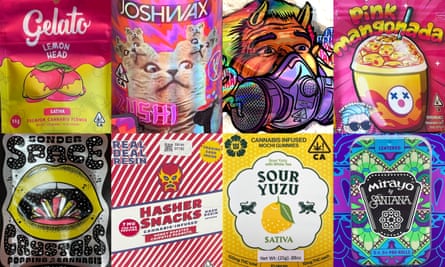 "It made you feel like you were doing something illegal," says Megan Stone of High Road design studio, which specialises in cannabis dispensaries. "It always felt like you were just one step above your drug-dealer's basement. But now there are dispensaries that look like jewellery stores, opticians and cupcake bakeries, all moving away from that stoner mentality."
California is now home to the largest legal cannabis market in the world, raking in $5.2bn (£4.3bn) in sales in 2021. It boasts the biggest cannabis-growing region in the country, known as the Emerald Triangle, and has developed one of the most sophisticated industries, leading the way with specialist products and ever more experimental stores, nowhere more so than in the hedonistic consumer capital, LA. With stiff competition and increasingly exacting customers, dispensaries have transformed from grungy dumps to slick boutiques, each trying to outdo the next with Instagram-worthy design and immersive experiences.
"How do you like to feel?" the Wyllow hostess asks, offering me a seat on a green velvet banquette. "More of a head high or a body high? More relaxed and sleepy, or creative and alert?" I am talking to a drug dealer but it feels more like a consultation with a mindfulness coach.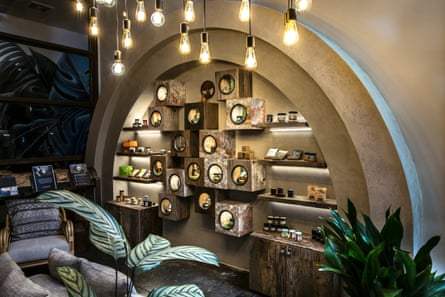 Moments later, she reappears from behind a curtain with a tray of assorted products from pre-rolled joints to cannabis-infused crackers, chocolates and gummies, along with jars of dried marijuana buds variously packaged like Belgian chocolates, expensive perfume and fizzy candy. The shelves around us are lined with everything from lychee-flavoured mochi gummies to pharmaceutical bottles of tinctures, along with strips that dissolve on your tongue. Recordings of ASMR sounds play in the background: a symphony of rolling papers, exhaled smoke, and ashtray tappings.
Designed by Singaporean firm Space Objekt, Wyllow is the ethereal vision of Camille Roistacher, who opened the 300 sq ft store last year in a former hair salon between Beverley Hills and Culver City. "We wanted to make an inviting space for the canna-curious," she says, "the kind of place that might appeal to those who have never smoked before, or are nervous about trying it. The whole experience should be interactive and educational, so customers leave feeling like they know more about cannabis."
It is a more poetic approach than most other recent dispensaries, which often opt for the minimal, pharmaceutical look, in an attempt to shed any shady connotations. MedMen was one of the first recreational dispensaries to open in the state in 2018, styling its West Hollywood shop as the "Apple Store of weed". It now operates 23 locations across the country, each equipped with long wooden tables manned by cheerful staff – or "budtenders" – in matching red hoodies.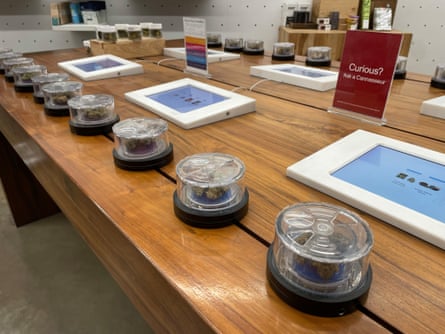 "The Mike Bites are really popular this month," says a beaming budtender in MedMen's downtown LA branch, showing me a packet of ear-shaped gummies, each with a bite-shaped chunk missing. They are the latest release from boxer Mike Tyson's weed brand, Tyson 2.0, a ghoulish homage to the time when he took a bite out of Evander Holyfield's ear in a 1997 heavyweight match.
The red gelatine ears are displayed alongside flapjacks and chocolate buttons, onion rings and popcorn, all neatly arranged in petri dishes beneath glass panels in the tables, with their precise ratios of CBD and THC (the compounds that induce the therapeutic and psychoactive effects) detailed on touch-screen monitors. A nearby table showcases cannabis sugars, balms and even bath bombs. Another is dedicated to vape pens and others to the dried buds themselves, enshrined in little plexiglass boxes topped with magnifying glasses and ventilation holes so you can inspect the "nug" structure and have a good sniff.
"We treat it like a grocery store, continually rotating the products to keep customers interested," says the assistant, "and we have a grab'n'go section by the counter, with things like pop rocks." Aping the Apple Store "genius bar", you can book an appointment with a seasoned "cannasseur" to talk through your specific needs – such as what to take before a date night and the ins and outs of cannabis-infused lube.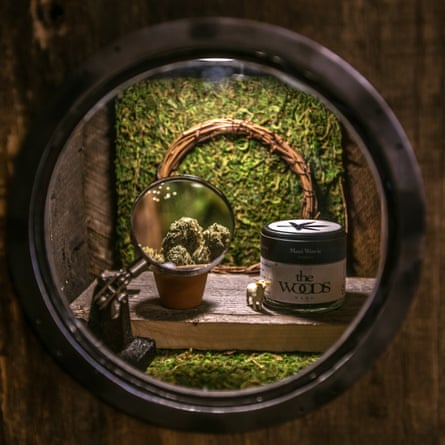 Across town, in the independent, fun-loving city of West Hollywood, I find two venues that have gone beyond retail and ventured into the brave new world of on-site cannabis consumption – the only place in LA county where it is currently legal to do so. Hollywood actor and longtime weed activist Woody Harrelson is the brains behind the Woods, an organic-leaning dispensary that opened its Ganja Giggle Garden in October, a lush tropical oasis where cannabis cabanas sit among palms, flanked by bright blue macaws and a pond of giant koi carp.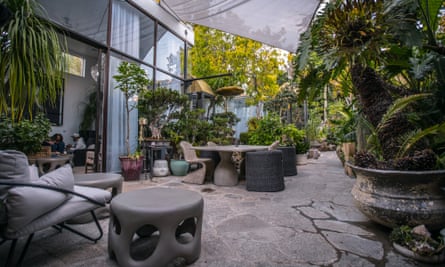 "This has been a 20-year project," says designer Thomas Schoos, who planted the garden when what is now the dispensary was his studio, collecting cycads and sago palms, mango and papaya trees, along with exotic orchids and century-old yuccas. The result looks like a Balinese hideaway, the planting framed by ornamental wooden panels salvaged from Thai temples and an outdoor bar roofed with a 250-year old ceiling from a Burmese monastery – redeployed here for a different spiritual purpose.
On the shelves, in place of liquor bottles, stand gleaming rows of blown glass bongs, bubblers and their 21st-century equivalent, electric "dab rigs" and cups made by Zenco designed so you can inhale vapour as if sipping from a glass, like a witch's potion.
The white steel framed cabanas nestle in the jungle canopy, with a two-storey treehouse accessed by a spiral staircase (which looks challenging after a few puffs). The glass walls are re-screened by sheer curtains, providing privacy in this town of celebrity stoners. A bar serving alcohol is coming soon in the unit next door, connected by what Schoos calls "peekedy-boo windows", providing illicit glimpses between the two spaces – which must remain separate by law.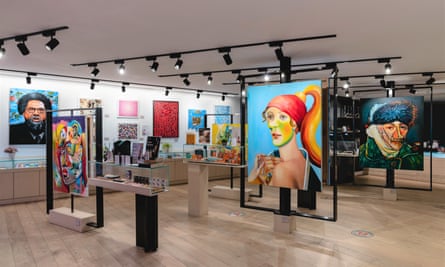 While the Woods' vibe is somewhere between tropical beach resort and luxury spa – with Buddhas peeking from every nook – West Hollywood's other consumption lounge channels the look of a contemporary art gallery. Entering The Artist Tree, you would be forgiven for thinking the whole thing was a conceptual installation. A freestanding glass box glows with ultraviolet light behind the reception desk, housing cannabis plants for sale, while display stands of paintings and prints extend behind, in between cases of products.
A staircase leads up to a bright and airy bookshelf-lined lounge, which spills on to an outdoor terrace. One weekday lunchtime, a couple of millennial wi-fi workers stare vacantly at their laptops, sipping cannabis-infused mocktails, while a group of middle-aged women giggle together around a bong. An older solo smoker grins contentedly in the corner.
"We didn't want it to feel like a dark and dingy coffeeshop in Amsterdam," says co-founder Lauren Fontein. "We wanted it to be more like a high-end bar or restaurant, trendy and vibrant." The lounge hosts open-mic nights, drag brunches and standup comedy, while an events space upstairs sees a packed calendar of "puff and paint" art classes, stoned yoga and meditative sound baths – a popular California ritual of lying down listening to singing bowls and gongs.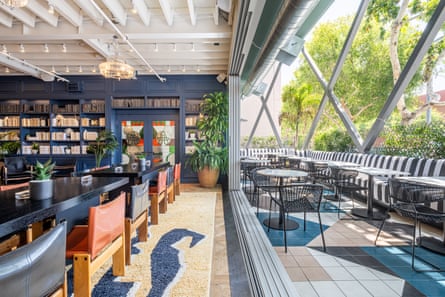 Styled more like galleries and spas than places to buy weed, some of these new establishments have faced hurdles. "A lot of people don't realise we are a dispensary," says Fontein. "Which is good, but also bad, because we don't get the walk-in traffic." After low footfall for the first few months, with passersby assuming The Artist Tree was a gallery, a pair of giant neon cannabis leaves were stuck on the facade, dazzling enough to catch the attention of even the most baked.
A few blocks north on Sunset Strip, the new Urbn Leaf dispensary had similar struggles. "People thought we were a boutique perfumery," says the store manager, "so we had to put a big 'Weed Here' sign on the door." But the punters don't fit the usual stereotype either. Along with intrigued tourists, he says, a lot of its clientele includes people looking for wellness products, or things to help them exercise.
"We get a lot of fitness people coming down from the hills who want to get stoned and go on a hike, or use cannabis for their workouts. It's no longer just about sitting on the couch getting the munchies." The range of novel enterprises continues apace: in Emerald Village, there are plans for a cannabis-themed bowling alley and recording studio as well as a spa with THC-infused massage oils. Cannabis restaurants may be coming soon, if licensing is relaxed.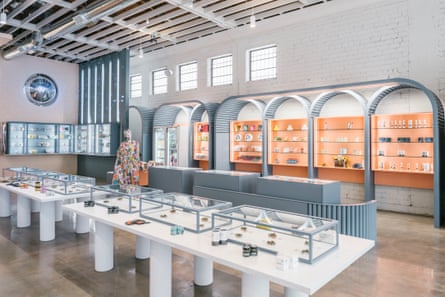 As the market gets ever more sophisticated, it seems there is a dispensary to cater to every crowd. In East LA, I find a Latino-owned store that sells hash-infused chipotle peanuts with lucha libre wresting masks on the box and gummies moulded in the shape of Mayan pyramids. They look too good to eat. I try their Indica strain that evening and sink deeper into the sofa than ever: it is nicknamed "in-da-couch" for a reason.
In downtown LA I visit Green Qween, a former art deco bank painted with the colours of the trans flag, which is now home to a dispensary of queer-owned brands. A big disco ball rotates in the corner, casting a sea of sparkles around the pastel-coloured store, while dichroic mirrors reflect subtle rainbow patterns across the floor. "We wanted to honour the queer history of pioneering the legalisation of cannabis," says founder Andrés Rigal, "dating back to the Aids crisis and Dennis Peron, who founded the first public dispensary in San Francisco." A mural outside includes several selfie spots where punters can pose with affirming slogans.
But for many purists, it's all about the bud – and going straight to the source. In an industrial area south of downtown, I arrive at Traditional, an anonymous warehouse differentiated from its neighbours only by the security guard at the door. Inside I'm welcomed into a lobby with a sparkling purple terrazzo floor and an LA Lakers jersey framed on the wall, alongside shelves of figurines by the artist Kaws.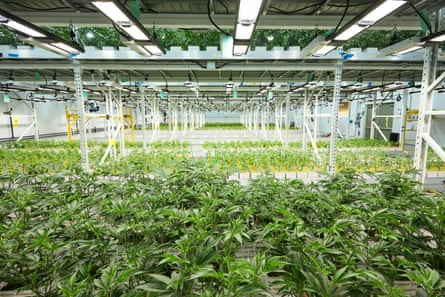 It looks like a high-end streetwear outlet, with rails of branded T-shirts, hoodies and sweatpants, along with supersized cannabis jar-shaped plinths showcasing not the latest sneaker drop, but this month's flowers. And at the back, there's something few others can boast: windows looking into a 70,000 sq ft growing facility which produces 360kg of cannabis a month.
"We grow premium flower, all our own genetics," says Traditional's president, Alex Freedman, who previously worked as an attorney for the City of Los Angeles, drafting cannabis licensing regulations. "But our product can be 50% cheaper because its grown, dried and packaged right here on site."
He leads me into the "mom room", where cuttings are taken from mother plants, then propagated in a humid "clone room" before moving on to the "veg room", and finally one of the vast "flower rooms" where hundreds of plants are grown under artificial light for another 12 weeks until they produce the perfect plump, sticky buds, bristling with hairy pistils and crystalline trichomes.
Freedman tells me another British visitor recently dropped in: none other than the mayor of London, Sadiq Khan, who was in LA on a fact-finding mission to explore how legalising cannabis has improved safety, quality and, most importantly, spawned bumper tax revenues. This city of celebrity sparkle may have perfected the slick, branded boutique and glamorous smoking lounge. But perhaps one day we can look forward to the streets of London and beyond boasting a particularly British breed of greasy-bong cannabis caffs and sticky-carpeted pot pubs. Anyone for ganja-infused pork scratchings?
Related Posts