8

Apr, 2023
Lawmakers considering bill that would ban the use of Oregon's wildfire risk map by insurance companies | FireWatch
SALEM, Ore. — With another wildfire season right around the corner, state lawmakers are looking into ways to protect homeowners from increasing insurance costs.
Back in 2022, dozens of local residents in Southern Oregon claimed their insurance companies increased their insurance rates, or dropped them entirely due to the state's wildfire risk map. Although insurance companies still deny those allegations, lawmakers up in Salem are hoping to put local's minds at ease with Senate Bill 82.
If passed, Senate 82  would prohibit insurance companies from using the statewide map of wildfire risk as a basis for canceling policy or increasing premium.
"We need a map at some point to know where to target our efforts and our assistance," said Senator Jeff Golden. "We don't wanna make people anxious that the publication of a map is gonna affect their insurance rates."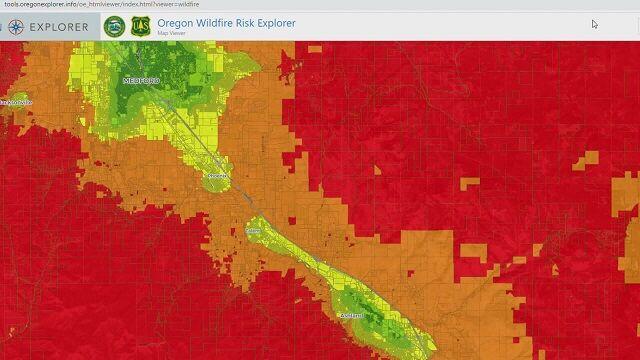 On top of the ban, SB-82 would also help homeowners in other ways. If passed the bill would help homeowners by forcing insurance companies to issue lower premiums or stop cancellations those who take extra efforts to protect their home.
"The real goal here is to get and make sure that homeowners and property owners who do the best that they can to reduce wildfire risk have access to affordable insurance," Golden said.
The bill would also require insurance companies to provide specific details as to why a homeowners insurance is increasing or why someone's policy is being dropped.
"If the insurance companies cancels somebody's policy or really increases rates, they're gonna have to explain exactly why rather than just saying, you know, we don't feel good about the risks in Jackson County," Golden said.
However for homeowners who have already had their policy's cancelled or price increased, the bill falls short.
Back in November 2022, one Applegate resident we spoke with this week informed us his insurance policy was cancelled due to quote, "wildfire risk". In the months to come the resident told us more than a dozens quote from insurance companies informed him that he would have to pay between 6,000 to 7,000 dollars a year. He was paying roughly $1,700 before his cancellation.
"I think it's good that they're taking the initiative to take a look at this, but I would have like to have seen something before."
Eventually this resident told us that he was able to find a new policy at close to the same cost, but believes a lot of this could have been avoided if the state would have not released its wildfire risk map back in June 2022.
"The damage has already been done to homeowners," he said. "The insurance companies already have that map (Oregon Wildfire Risk Map) and they can develop their own based off that map."
Back in August 2022, the Oregon Department of Forestry temporarily withdrew the wildfire risk map for further refinement and has yet to re-release that map to the public.  
As for Senate Bill 82, officials say the bill will head to the floor for a vote sometime in the next week or so. 
Related Posts