4

May, 2023
Suspended Hillsborough State Attorney Andrew Warren heads to federal appeals court
TAMPA, Fla. – The fight over former state attorney Andrew Warren's removal from office headed to a federal appeals court in Alabama Tuesday afternoon. 
It's the latest move in a legal battle that began in August after Governor Ron DeSantis removed Warren from his office and accused the twice-elected Hillsborough State Attorney of neglect of duty. 
Warren and his team walked into the Alabama courtroom for the hearing that lasted about one hour, with each side presenting its case for about 30 minutes.
"We think that it is clear that the obvious explanation here is the right one: The governor didn't like what Mr. Warren was saying, and so he punished him for it. Came up with the pretext that he thought would pass muster," David O'Neil, Warren's attorney.
RELATED: Andrew Warren does not regret signing pledge that cost him his job: 'I have done my job exceptionally well'
No final decision was made Tuesday. Warren gave a brief statement on the courthouse steps after the hearing concluded. 
"I want to thank my attorneys for everything they've done over the past nine months," he said. "I've spent my career as a prosecutor, serving my community, state, and country. I believe with every fiber of my being in fighting for our freedoms, our democracy, and the rule of law—and that's what this fight is about. From the beginning, we've believed that the law is on our side, and we hope that the court sees it this way."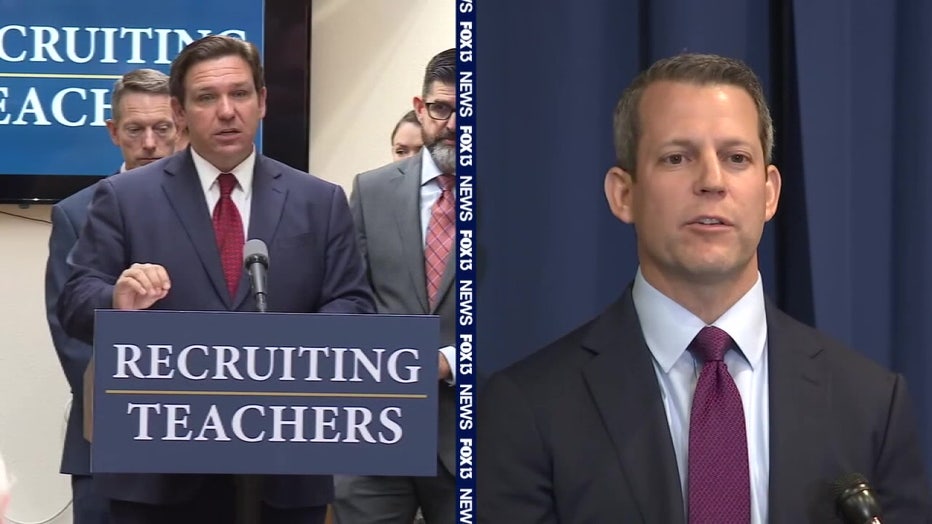 Governor Ron DeSantis and Andrew Warren side-by-side. 
Prior to his ousting, Warren had signed pledges promising not to prosecute those seeking or providing abortions or gender-affirming cases.
"We asserted all along that the governor suspended Mr. Warren for the abortion statement, for his abortion pledge, his pledge not to prosecute abortion crimes, and because of the bike and low-level-offense policies. And there is no basis to overturn that finding as fairly erroneous," said Henry Whitaker, the attorney representing the governor's office.
Warren has argued that no cases involving either topic ever crossed his desk and called his removal a political stunt designed to suppress dissenting opinion. 
In January, U.S. District Judge Robert Hinkle agreed. In his ruling, the judge found there was "not a hint of misconduct" and that accusations of having blanket policies against prosecuting certain crimes were "false". Hinkle stated DeSantis violated both Warren's first amendment rights and the Florida constitution. 
"The judge found that this was a predetermined hit on me, that they had decided they were going to take out a reform prosecutor from the beginning," Warren said in an exclusive interview with FOX 13 following the ruling. "That was what the motivation was: political retribution against a political adversary, period." 
Despite the federal judge's findings, however, he also ruled that he lacked the authority to reverse the governor's action. 
Warren says the judge's findings show he is legally entitled to reinstatement. He's asking the 11th U.S. Circuit Court of Appeals to conclude that they have the authority to reinstate him based on Hinkle's findings. 
Attorneys for the governor maintain Warren's suspension was justified.
"The governor suspended Mr. Warren because of non-prosecution policies that simultaneously revealed Mr. Warren's neglect of duty and incompetence and reduced the deterrent effect of the criminal law in the Thirteenth Judicial Circuit (the Hillsborough County circuit)," they wrote in a brief.
MORE: Warren vs. DeSantis: Ousted Florida state attorney cannot legally be reinstated by U.S. court, judge rules
Warren maintains his removal sets a dangerous precedent. 
"In the Governor's view, an elected official has no right to tell her constituents—and voters have no right to hear—what the official believes about the issues and policies for which she is responsible. As far as the First Amendment goes, the Governor may undo elections and remove incumbents solely because he disagrees with the viewpoints they express. He may remove any state attorney purely because she is not a member of his political party," Warren stated in his petition.          
Warren has also written a formal letter to the governor asking that he follow the law, and the judge's findings, and reinstate him. His demands have been ignored. 
In a separate lawsuit, Warren is petitioning Florida's Supreme Court for his reinstatement. He also submitted a letter to Gov. DeSantis asking to be reinstated.
Related Posts