20

May, 2023
Trump's Legal Woes Help Tighten Grip on Republican Nomination
Donald Trump has surged to a 69-point lead over Ron DeSantis in the race to be the Republican Party's 2024 presidential candidate, according to a new survey conducted exclusively for Newsweek.
The former president's ongoing legal difficulties, which have seen him charged in a hush money case and ordered to pay $5 million following a sexual assault lawsuit, have "proved even more problematic" for Trump's opponents than the New York businessman, according to a top pollster.
President Joe Biden has already announced he plans to run again in 2024, with polls giving him an overwhelming lead over other Democratic candidates who have declared, raising the specter of a second Trump vs Biden election.
Polling by Redfield & Wilson Strategies, on behalf of Newsweek, of those likely to vote in a Republican primary, including undecideds, found 77 percent said they would support Trump. This gives the former president a dramatic lead over second-placed Florida Governor Ron DeSantis, who is on 8 percent. The joint third position is held by businessman Vivek Ramaswamy and Nikki Haley, the former governor of South Carolina, both of whom are on 2 percent. Unlike the other top candidates, DeSantis has yet to formally announce he is running.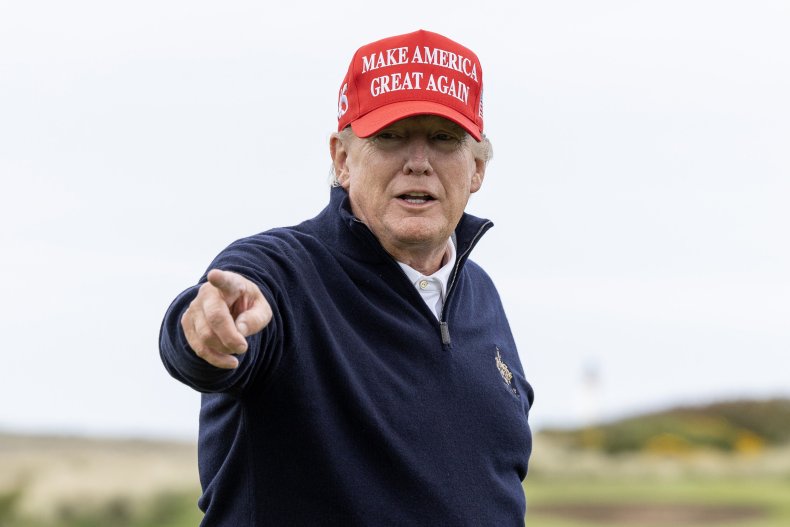 The survey, of 1,500 eligible U.S. voters was conducted on May 17. It found Trump has made significant ground since 24 April, when the last Redfield & Wilson Strategies survey was conducted using the same methodology.
In that poll Trump had 62 percent support and DeSantis 14 percent, giving the New York business tycoon a lead of 48 percent.
Speaking to Newsweek, Philip van Scheltinga, director of Research at Redfield & Wilton Strategies, said the polling shows Trump hasn't suffered in the Republican primary from his legal entanglements.
He said: "The legal troubles Donald Trump faces has evidently proved even more problematic to Donald Trump's Republican primary opponents. Many of Trump's 2016 and 2020 voters, the very voters a primary challenger needs to win over, believe that the legal troubles are the result of politically motivated attacks. Therefore, for a Republican primary opponent to criticize the former president now is to risk associating oneself with his Democratic enemies or with Republican Never-Trumpers, both reviled by most Republican voters.
"At the same time, the clock is ticking for would-be challengers to make an early mark on the race and give their campaign much-needed momentum and airtime. If those investigating, prosecuting, or suing Donald Trump wanted to help him win the party's nomination, their strategy is working."
An earlier Redfield & Wilson Strategies survey carried out for Newsweek, of 1,500 eligible U.S. voters on April 4, found 55 percent of Americans think Trump's legal issues are primarily politically motivated, though 56 percent think investigations should continue.
On April 4 Trump pleaded not guilty to 34 cases of falsifying business records, related to the alleged payment of hush money to former pornographic actress Stormy Daniels ahead of the 2016 presidential election.
Earlier this month a New York jury concluded Trump sexually abused writer E. Jean Carroll during the 1990s, then defamed her, in a civil case. However it didn't find the former president liable for rape, as Carroll had alleged. Trump has denied all wrongdoing, branding the case "a continuation of the greatest witch hunt of all time."
Trump is also being investigated over his handling of classified documents, an alleged attempt to overturn the 2020 presidential election result in Georgia and the events surrounding the January 6, 2021, storming of the Capitol Building by his supporters.
Newsweek has contacted Donald Trump and Governor DeSantis for comment, via the press contact form on his official website, and email, respectively.
Related Posts